This Reconstruction is of an unidentified white female who's body was found floating in the Cumberland River (TN) in July of 1993. The victim was 5'6"-5'7" in height, and approximately 125 -135 lbs. Victim had a hysterectomy in the past, and dental problems. The victim's age is said to be over 30 years of age.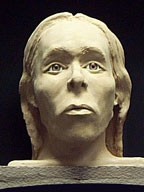 Anyone with information as to the possible identity of this individual, contact Detective David Achord of the Nashville Police Department.
The hair on the reconstruction is an approximation, for no hair samples were available. Observe closely the proportions of the face and facial features.