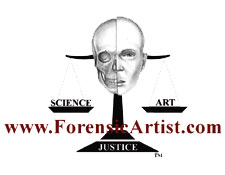 Welcome to the world of Forensic Art. This site was developed out of the love of forensic art. The website touches on the various facets of forensic art, giving a brief description of each. Take time to view the various pages and contact me if you have any questions regarding a specific issue or on forensic art in general. Forensic Artists provide many services including composite drawing , three dimensional facial reconstruction , two-dimensional facial reconstruction, decomposition/post-mortem sketches and computer enhanced reconstructions, computer and hand-drawn image-enhancement and age progression. Other tasks include hand drawn and computer generated crime scenes, charts and graphs, assemblage of photo lineups, etc. Hopefully this page will help coordinate the needs of the law enforcement community, with the services that an adequately trained forensic artist can provide. In addition, the site is used as a means for fellow artists to communicate and swap ideas with each other.
If you have information on upcoming forensic art courses, or would like information on upcoming courses, contact me, and I will try to provide you with contacts that may help you out.
The case samples on this site are to be viewed / used solely as samples of forensic artwork, and how they have proved to be successful over the years.
To learn more about Forensic Art spend some time visiting the various links on this website.