THE HISTORICAL EXHUMATION PROJECT
PUTTING FACES ON HISTORY
Florence County Forensic Artist Reconstructs History
By JACKIE TOROK
Staff Writer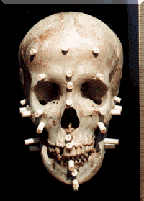 Florence County Sheriff's Officer Wesley Neville has gotten to know three Louisiana settlers personally, even though they've been dead for almost 150 years.
Neville has been in law enforcement for 11 years and has spent the last five as a local forensic artist. He is one in a team of experts and researchers across the country who are working on the Historical Exhumation Project based in Southern Louisiana. The project is designed to interpret the lives and deaths of 18 French Acadians whose bodies were found in two disintegrating grave sites and reintroduce them to the genealogical record before properly reburying their remains.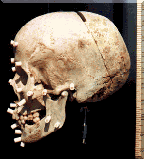 Neville was chosen to participate in the project by its project director, Forensic Consultant, Lucretia McBride, after she came across his web site, which shows examples of his work, such as his rendering of local crime suspects and their victims, and the various techniques he uses as a forensic artist.
"your Internet Web Site intrigues me," McBride, a former law enforcement officer specializing in forensic investigation, told him. "There is something about the site that I cannot get out of my mind."
The research team already included an archeologist, a botanist, a DNA expert, an anthropologist, an entomologist, a genealogist, an expert in metallurgy and coffins, a mortuary science expert, a textiles expert, a dentist, a radiologist, a toxicologist, and a pathologist.
McBride, a Medicolegal death investigator, said she recruited Neville for the project because a skilled forensic artist could help put faces on the people whose remains were found in the graves.
"It's a precedent-setting project. It will establish the lifestyle of the French Acadian culture based on science, forensics and historical interpretations," she said. "We're opening a whole new area here."
McBride said the prospect of putting faces on the people also appealed to the legal titleholder of the graves, who is a descendant of the tomb occupants.
After some correspondence via e-mail and several telephone calls later, Neville accepted McBride's offer to become a part of the project team. Members of the team meet several times at the Jefferson Parish Forensic Center in Louisiana during the year to exchange findings, gather information and get to know each other.
"I could not pass up the opportunity to participate in a project where so many established professionals are involved," Neville said. "The whole idea of the project, and what the goals are, intrigues me and is something I believe in."
How the project began
While Neville has spent about a year on the project, it actually began three years ago as a mission to save the contents of two badly deteriorating graves from the 1850s in southern Louisiana. In two above-ground and two below-ground vaults beneath one of the graves, researchers found the remains of 18 individuals, 3 who were recovered from cast iron coffins: a woman named Clemence, who was in her early to mid 30s when she died in 1857; her sister; Celeste Leontine, who was 27 when she died in 1852; and a 14-year-old boy named P.W., Clemence's son, who died in 1853.
Neville got their skulls from Team Member Forensic Anthropologist in Atlanta, who also passed along his own findings such as their approximate age, race, height, weight and their causes of death.
"As the artist, my contribution to the project includes a variety of identification methods,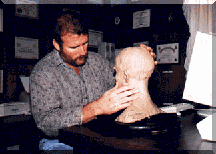 including Two-dimensional Reconstruction, Three-dimensional clay reconstruction, a Computerized age-progression, and computer color enhancement of the reconstruction photographs. These techniques, some new, some established, are rarely done in conjunction with one another, but the fact that the victims are already identified, and the abundance of information available from the various forensic specialist's findings, allow me the flexibility to experiment with various different techniques," he said.
Meet Clemence, Leontine, and P.W.
One of the challenges facing the researchers is the lack of information about the regional embalming procedures of the 1850's. Another is the uncertainty of the causes of death for the tomb occupants.
Before handling the skulls Neville donned masks and rubber gloves. The first thing he noticed was the apparent family resemblance in the makeup of each of the three skulls. All of them had significant overbites. Leontine and P.W. had straight teeth, but Clemence's teeth were crooked and she also had an upper denture plate.
The size of the nasal aperture in each of the three skulls also was similar, and all three had a slight curvature of the nasal bone. Neville said theis gave their noses a slight "hook" appearance, meaning that their narrow noses would show an obvious drop off the bony portion of the upper nose.
Neville determined Leontine's eyebrow shape would be a bit different from that of the other two skulls, with a somewhat downward slope. He also considered the original ancestry of the tomb occupants, before deciding that their eyes were blue. Documentation from those present at coffin openning indicated that both Leontine and Clemence had blue eyes. This was also a common color for the people in their geographic location.
"Leontine's skull is long and narrow with a long forehead," he said. "Her hairline could be determined due to a wrap placed around her head at the time of her burial holding the hair in place, thus causing a noticeable discoloration of the skull, " he wrote. "P.W.'s skull was shorter and more proportioned than that of Leontine."
"Clemence's skull is a combination of the previous two. While Clemence's skull is short like P.W.'s it has the bone structure -- cheekbones and chin shape -- as that of Leontine's," he wrote.
Making Faces
Neville washed their skulls in a solution of bleach and detergent before beginning the reconstruction process.
"This is another safety precaution, as well as allowing the tissue markers to adhere to the skull adequately," he said.
Once the skulls were thoroughly cleaned, Neville placed them on a stand and photographed them. The first technique he used on the skulls, one at a time, was the three-dimensional method of facial reconstruction. To do this,he placed each skull on a stand so that it can be tilted and turned in all directions. He positioned the skull to align the ear holes with he bottom of the eye sockets. By using proper tissue depth data determined by the race, gender and age, Neville placed artificial eyes in the sockets, then centered them and adjusted them to their proper depth.
Neville glued tissue markers directly onto the skulls on preset points, then systematically applied clay onto the skull, following its contours and paying strict attention to the tissue markers. He also used clay to create hair, and added necks and shoulders to create busts of Clemence, Leontine and P.W. that could be adorned with clothing to accurately represent what they wore at the time of their burials.
Once he finished this process, Neville began the two-dimensional facial reconstruction process. The skulls, with their tissue markers in place, were photographed before the 3-D sculptures were created. Those photographs were then enlarged to life-sized dimensions. The frontal and profile photos were taped directly beside each other on two separate flat boards.
Neville taped transparent natural vellum sheets directly over printed photos of each skull and individually sketched their faces, following the skulls' contours and using the tissue markers as guides. During this procedure, he paid no attention to the clay sculptures.
Neville said that in an experimental procedure, the photographs of the 3-D clay sculptures will be color-enhanced by a computer to "bring life to the reconstruction." The sculpture of P.W. also will be age-progressed by computer by using a graphic painting program and may show some similarities to some of the family's more recent descendants.
"This is the first project of its kind that goes back that far for the Acadians, who were the original Cajuns of Louisiana. For me, doing the sculptures has been the most fun, watching these faces emerge right under my hands," Neville said.
"As I've worked on theis project, these people -- Clemence, Leontine and P.W. -- have become a part of me," he said. "I've imagined what their lives must have been like. They're sort of like family to me now.
Back at the grave site
Inside the coffins of the tomb occupants, researchers found that their clothing, jewelry and religious artifacts were virtually intact. Although they were stained, McBride said the lace of the chemisette (or dickey), the ribbons on a young boy's shroud, a small crucifix containing a lock of hair and dozens of other items were almost untouched by age.
Although the graves belonged to the same family, no one assumed responsibility for caring for them through the decades. One male family member went through the expensive legal process of becoming their legal titleholder. The project came about because the graves were in such bad condition, McBride said.
"They were being held up by faith and a breath of air," she said. Conservation, restoration or repair were not longer options.
The titleholder, an educator , and family historian with a law degree, who traced his family back a dozen or so generations, has had the final say on all decisions regarding the project. "This is really a success story" McBride said. "We're giving their dignity back to them and reestablishing the genealogical record."
Only four names were listed on the above-ground vaults, so finding 18 individuals came as a surprise to the titleholder and to the researchers.
"It's a fabulous mystery, but it would have been a horrible tragedy to re-inter these individuals without putting a name on them. And all too often, that is what happens," she said.
In two of the cast-iron coffins were young women, later discovered to be sisters Clemence and Celeste Leontine. In the third cast-iron coffin was P.W., Clemence's son by her first marriage.
Also listed on the vault where Leontine was buried were the names of two of her infant sons, Firmin and Gaston. Inside the vault was a coffin liner, the final resting place for Leontine's 7-year-old daughter, Mary, who died in 1857. McBride said Mary's name was found on a plaque atop the coffin liner.
The commingled remains of several people were found in the second tomb. Beneath it, researchers found a bricked vault containing the cast-iron coffins of Clemence and P.W. Their identities were discovered through historical and genealogical research that now is being confirmed through DNA testing. Excavation also is being done in front of the underground vault to see if their name plaques are there.
The only name found on the above-ground second tomb was that of "Francois," the father of Clemence and Leontine. His plaque showed that he died in 1831. His remains were expected to be found in the subterranean tomb with Clemence and P.W. McBride said Francois' name plaque probably was removed from his tomb and placed atop the new above ground vault when it was built sometime after 1857.
Leontine and her nephew, P.W., were buried in molded, cast-iron Fisk mummy cases. The patented seal was intact on Leontine's coffin.
The research indicates that P.W., his mother and his aunt were anointed with herbal recipes, which, along with their type of coffin, helped preserve their garments, McBride said.
The final stage
While the clothing and cast-iron coffins will be retained for study, the personal effects of the deceased will be reburied with them next spring, McBride said.
"We've studied them, documented them, interpreted them and photographed them. We have the historical records established," she said. "It all comes down to that it's the right thing to do."
Celeste Leontine's coffin is on display now inside a hearse from the same period at Louisiana State University's Rural Life Museum. P.W. and Clemence's coffins also will be on exhibit there when the research on them is concluded, McBride said.
The team is scheduled to present its findings next spring, and McBride is compiling the final report for the presentation, for which she has accumulated more than 5,000 documents. She and the titleholder have plans in mind for the completed reconstruction sculptures.
"The project has now become all-consuming," she said. "It's just really darn interesting."
Neville said his involvement in the project has been humbling, awe-inspiring experience.
"This has been a great opportunity for me, and to be a part of a history-making project is an honor," he said. "Lucretia has done an unbelievable job in coordinating the project. The contacts I have made, both professional and personal, are irreplaceable, will follow me through life and no doubt enhance my career."