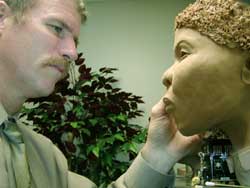 Wesley W. Neville, a forensic artist with the Florence County Sheriff's Office and a former member of the Dillon County Violent Crime Task Force, is now serving as the Area Director for South Carolina for the DoeNetwork & Project EDAN which seeks to give the unidentified a name. According to Project EDAN (Everyone Deserves A Name) founder Todd Matthews, Project EDAN "offers a way to enhance forgotten cases. It helps to give a face to cases that never had one due to a lack of funding."
Neville, who joined the project at the very beginning in early 2001, describes EDAN as a "one of a kind organization." "Many agencies around the country do not have the resources or time to dedicate to missing persons or unidentified persons cases, which take a tremendous amount of man-hours to investigate," Neville explained. "Project EDAN not only offers these agencies access to a forensic artist, but also acts as a 24 hours a day investigative service. That is to say, that someone within the organization is always searching, trying to match up a missing person with an unidentified one," said Neville.
Neville recalled how he became involved with Project EDAN. "Todd Matthews is the mastermind behind this project and when he proposed his idea for EDAN, I
immediately contacted him offering my assistance. The DoeNetwork as well as Project EDAN are projects I believe in. The law enforcement professionals as well as civilian volunteers from a wide variety of backgrounds involved in with the DoeNetwork offer a fantastic resource for the law enforcement community," Neville said.
Shortly after he came on board, Neville was approached by Helene Wahlstrom of the DoeNetwork about becoming the S.C. director for the DoeNetwork and Project EDAN. Neville decided to take on this role. "I felt that since I am a fellow law enforcement officer, that investigators would feel more secure about disclosing information on a particular case than they would with a civilian 'outsider' individual. The number one goal is to get the information about these unidentified cases out there. Obviously, if no one sees the image of the unidentified, then chances of that person being identified are minimal. The Internet provides us with a wonderful resource to distribute the images to a large audience," said Neville.
As area director, Neville will have many responsibilities. Neville explains, "As the S.C. Director, I am basically the contact person for cases that involve a case from South Carolina. In other words, if a potential match comes up involving either
a S.C. missing person, or an unidentified S.C. person, I would contact the agency where that case originated from. I would let them know of the potential match,
find out whether dental records are available, or other details that may assist in a positive ID, or rule out the possibility."

In South Carolina, Neville has done sketches for three cases - two from Sumter and one from Aiken - for Project EDAN. He has also done sketches and reconstructions for other states as well that can be seen on his website
(www.forensicartist.com), or to view the cases from other states visit the sub-page (http://www.forensicartist.com/doenetwork/bio.html ).

Matthews says that Project EDAN is very fortunate to have Neville as part of the team. "Wesley is one of our busiest artists doing facial reconstructions in clay and sketch form. It would be impossible to list all the comparisons he makes come alive for us by doing expert overlays to compare cranial-facial features. Having a real expert on-board have proved to be invaluable. He is always one of the first to volunteer for a job, and I know he is sometimes already swamped with other work. Yet he always makes time to help others," Matthews said. Neville and Matthews would like to see more of the law enforcement community and public involved in the project."
To become involved in Project EDAN and the DoeNetwork, go to the website (www.doenetwork.org). The site will provide a link to a page, which explains
the process. Many people out there have valuable insight to particular aspects of an investigation. Some are great with matching tattoos, some with scars. Others are wonderful at noticing the likeness or 'gestalt' of a person through looking at a sketch or reconstruction. Some have first hand knowledge about certain cases, etc.. As you can see, by pooling all of these folks together for a single cause, can be most beneficial," said Neville. Matthews added, "Law enforcement has the option of contacting the EDAN project directly through the DoeNetwork. We are especially receptive to cases where there has been no attempt at reconstruction, and maybe the department doesn't have their own artist. We are aware that some departments do not have the resources to hire someone for art. We hope our volunteers can help to ease the problem a bit. As advised by several forensic experts while developing this project, we use forensically trained expert artists."
Matthews continued, "Another thing the public could do is take the time to look at some cases from time to time. It is of the utmost importance that the public see these images. You never know what you might see now...and relate it to something you might see in the future."