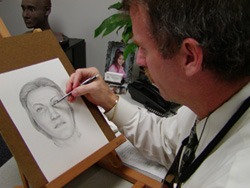 Forensic artist Wesley Neville, a former Dillon County Violent Crime Task Force member and current member of the Florence County Sheriff's Office, believes "everyone deserves a name." This is why Neville along with three other artists are volunteering their services to Project EDAN, which founder Todd Matthews describes as "a project designed to help provide (free) quality sketches and reconstruction's to agencies without the benefit of their own artist."

Matthews, who works closely with the Doe Network, was inspired by a case that affected his own life. More than 30 years ago, Matthews' father-in-law discovered a body in Kentucky, who became known as "Tent Girl." Matthews refused to give up and through his efforts she was identified.
Matthews says he believes that this case helped him begin to form the idea of Project EDAN, but the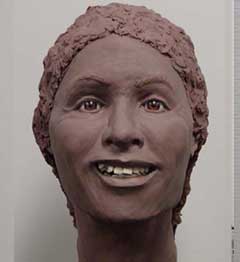 Doe Network helped bring it to fruition in 2001. "I guess...way back to 1987 my first thoughts of the then unnamed EDAN first came into my mind. The initial sketch of the Tent Girl just didn't appeal to me at all. In 1995, three years before I found the link to identify her, I drew my own sketch of the Tent Girl,' said Matthews, who said his sketch later appeared in newspapers and met with the approval of the family.

To qualify for Project EDAN, Matthews said they must have the "full cooperation of the law enforcement agency" before moving forward. Matthews foresees one day extending their services to areas such as suspect sketches or doing more controversial things such as emphasizing known colors in images.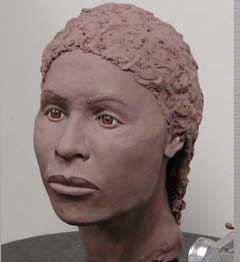 Neville became involved with Project EDAN through the Doe Network, which Neville also works with. When Matthews approached Neville with Project EDAN, Neville said he saw it as "an excellent opportunity to utilize my training in forensic art to assist in the hope of putting a name to the unidentified persons as well as bring closure to the families of missing children and
adults."
Neville has worked on more than 20 cases for Project EDAN, mostly in the form of post-mortem sketches. Neville said this is often "a last resort effort" to
get people identified.

One of Neville's most recent cases is a 3-D clay facial reconstruction of a Campbell County, Tennessee Jane Doe, who authorities believe may have been the victim of a serial killer. The case has been featured on Court TV and in some Tennessee publications.
Matthews said Neville was chosen for the Campbell County case because "he's great at doing facial reconstruction's.' Matthews hopes this case will be the flagship case of Project EDAN.
Neville feels that one of the key identifiers on this case will be the unique dental abnormalities of this Jane Doe; therefore, he did his first reconstruction without a smile, photographed it, and then did it with smile. Another artist did 2-D reconstruction sketches. The reason, Neville says, is to "give the viewer several different opportunities to see something in the reconstruction or sketch that may trigger their memory."
This is one thing Matthews sees as a key educational goal of Project EDAN. "I want people to see how to look at these images. They are not portraits. This is an 'artistic science'...educated opinions," said Matthews. "People too often look over these images asthey expect an EXACT portrait of their missing loved one. The remains are found under such varying circumstances. Sometimes we have a better idea of how a person looked based on what condition the remains are found."
In addition to serving as the Project EDAN Area Director for South Carolina, Neville is involved in number of other projects. He recently received an unidentified homicide victim's skull from a law enforcement agency in Germany. He is also involved in a facial reconstruction comparison organized by a forensic dental expert in Australia. The results of this comparison will be presented in Bari, Italy in September. He also completed a 2-D sketch from an x-ray image of a mummy occupant in Egypt. Neville is a member of the Forensic Art Subcommittee for the International Association of Identification, a group of "eight artists from around the world who promote forensic art and work toward maintaining the quality and integrity of the forensic art profession." Neville recently completed a course in forensic imaging at the National Center for Missing and Exploited Children in Alexandria, Virginia.

If you would like to know more about this topic, you may look on the internet at the following sites: For more information on Wes Neville and forensic art, check out www.forensicartist.com or www.fcso.org(click on investigations and then forensic art division) or for more information about the DoeNetwork and Project EDAN, go to www.doenetwork.org. Some of these sites have links to other sites dealing with this or related topics of interest. A site for Project EDAN is expected to be launched in the near future.